Helix 4000 Woltmann cold water meter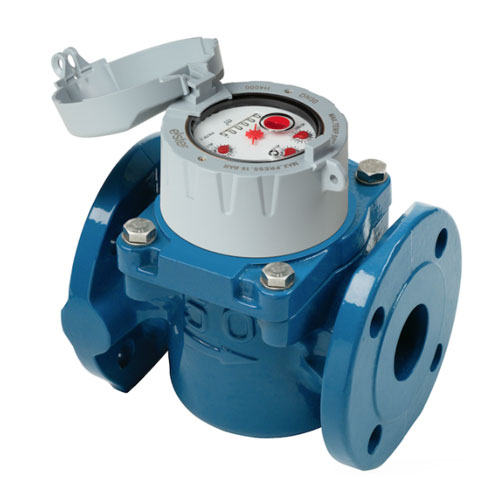 50mm to 150mm sizes available from stock
Honeywell (Elster Metering) Helix 4000 water meter
The Helix 4000 meter is designed for measuring bulk flows of cold water for revenue billing in commercial or industrial applications and distribution system monitoring.
Request a quote
Size ranges are 40mm to 300mm with flow rates between 0.5 m3/h and 2000 m3/hr.
Accuracy is maintained in both forward and reverse flow. The meter can be installed in horizontal, vertical and inclined pipelines.
Meter sizes 50mm, 80mm, 100mm and 150mm are available from stock.
Also available from stock are the Helix 4000 mechanism's for meter sizes 50mm to 150mm.
Specification
Standard 2004/22/EC MID MI-001
Meter size (mm)
40
50
65
80
100
125
150
200
250
300
Meter flange
PN16
PN16
PN16
PN16
PN16
PN16
PN16
PN16
PN16
PN16
Overload flow rate
Q4 ±2%
m3/hr
79
79
79
200
200
200
500
787.5
1250
2000
Pernanent flow rate
Q3 ±2%
m3/hr
63
63
63
160
160
160
400
630
1000
1600
Transitional flow rate
Q2 ±2%
m3/hr
0.81
0.81
1.6
2.05
2.05
2.05
3.2
6.3
10
20.48
Minimum flow rate
Q1 ±5%
m3/hr
0.5
0.5
1
1.28
1.28
1.28
2
3.94
6.25
12.8
Turndown ratio R
Q3/Q1
R Value
125
125
63
125
125
125
200
160
160
125
Headloss at Q3
Bar
0.39
0.24
0.19
0.18
0.18
0.24
0.15
0.12
0.15
0.37
Output pulse
Litres/pulse Litres/pulse
K1
1
1
1
1
1
1
10
10
10
10
Output pulse
Litres/pulse Litres/pulse
K10
10
10
10
10
10
10
100
100
100
100
All meter sizes
Maximum tempurature is 50°C and maximum pressure is 16 bar