Pipe Tracing and Cable Avoidance
Cable Avoidance Tools & Signal Generators
New Cable Avoidance Tools & Signal Generators are now available, we are offering the C-Scope CXL & DXL Cable Avoidance Tool (CAT) with either the SGA or SGV Signal Generator. We also offer the MXL Locator and MXT signal Generator for tracing over longer distances. These are high performance Locators developed using the latest in advanced digital signal processing technology to locate the exact position of buried pipes and cables.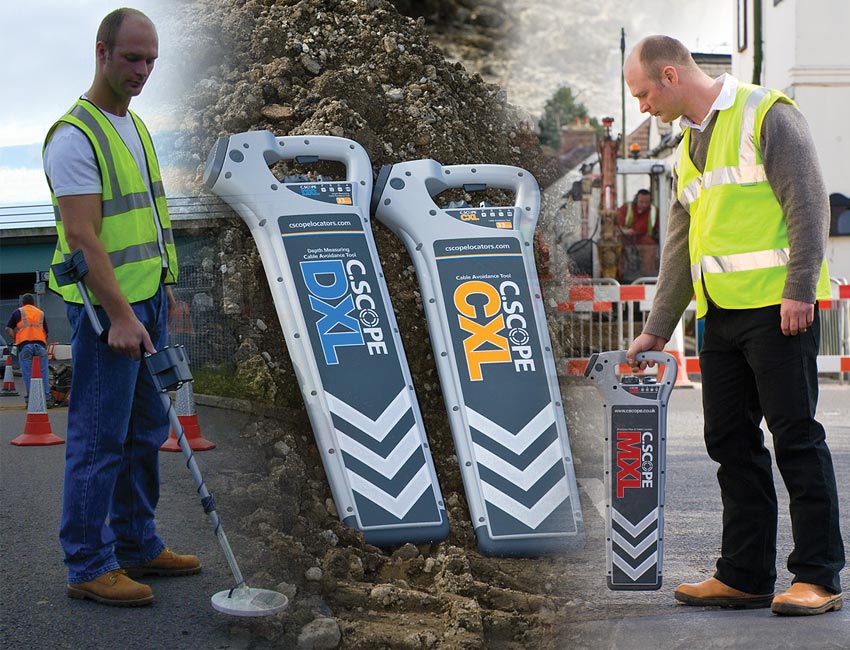 These locators are easy to use and built to last, they have been designed as truly 'pick-up-and-go' products which anyone can use and have the strength and durability to provide reliable locating time after time. These products are the ideal choice for use in all major Utilities who carry out any form of excavation work or pipe tracing.
CAT key features
No annual calibration, due to the long term stability of the product accuracy, there is no longer a requirement to send them back for annual calibration resulting in major savings in cost and downtime
On-site verification of product performance using the Function Checker, see below for more details
Extra detection mode available as standard on all models, 'Allscan' mode is added to 'power', 'radio' and 'generator' modes to detect all frequencies from the lowest of power signals up to 33kHZ and can detect unusual frequency often overlooked in the common modes
Integral data logger to record operator activity and usage for training and back-up support
Bluetooth connectivity to enable communication with GPS data logging, mapping and surveying systems
Additional benefits include depth indication on the DXL model, three transmitter frequencies and current signal measurement on the MXL model allows for longer distance tracing
The SGA and SGV Signal Generators are used in conjunction with the CXL & DXL CAT's. They can energise a metal pipe or cable by direct connection (allows individual pipes or cables to be traced, identified and depths measured) or by the simpler induction method (allows previously unknown metal pipes and cables to be detected and traced).
Signal Generator key features
No annual calibration, as per the key feature for the CAT above
Signal output switchable between pulse and continuous mode
Pulse mode can be used in high frequency situations and will keep on tracing
Power output is 0.3 Watt on the SGA whilst the SGV offer 1 Watt allowing for longer distance tracing with 4 power settings
LCD display on the SGV to indicate functions selected and battery condition
With the major benefit of not having to return the new range of C-Scope Cable Avoidance Tools and Signal Generators for annual calibration, the Function Checker will allow you to check on-site that the equipment is working to the manufacturers specification. This product is available to purchase or offered as a service by Mercom Water Products.
If you're interested in Pipe Tracing and Cable Avoidance please get in touch on 01453 887449 or sales@mercomwp.co.uk