GPRS Dataloggers
The MerComms.amr compact GPRS flow data logger
MerComms.amr is a new compact GPRS flow data logger with up to four independent input channels, each channel being configured to suit the in-situ flowmeter. This data logger will work with all the commonly used mechanical and electronic flowmeter pulse units/pulse cables and is fitted with an integrated roaming SIM chip.
Key features
Roaming solid state SIM used to detect the strongest network provider (you no longer need to hold numerous loggers in stock with different network SIM's fitted)
Roaming SIM will search for another provider if the signal is lost for any reason
Compact design to fit into small chambers and enclosures
Submersible housing (IP68)
Four flow input channels from one data logger
Remote antenna options allow for ease of installation
Typically 5 year battery life (subject to frequency of data transmission selected)
FTP transfer available to display the data in the customers software
3 warranty with option to extend to 4 or 5 years
We can now offer on-site support from installation of the data loggers through to a full install, service and maintenance package to suit the customers requirements, please contact us for more details.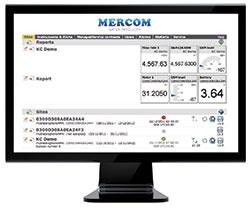 Web based data software to view:
Flow rate graph data
Meter index values (graphical or report)
Battery level and network signal strength
Alarms
Site details (customer photos, google map etc)
Web based software
The MerComms.amr data logger can be programed from any PC with internet browser access. A smart phone App is also available to allow the flow meter parameters to be set up on site if required.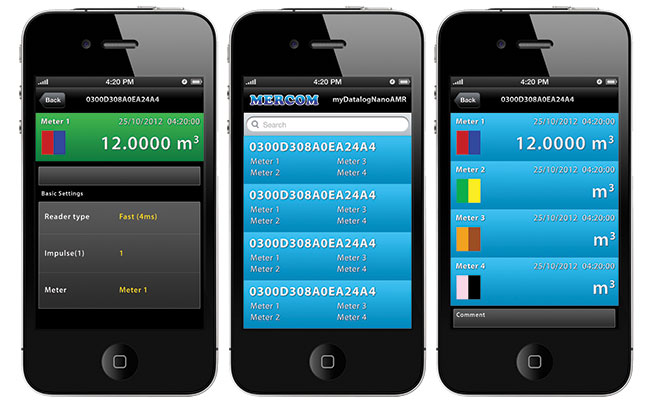 Web based software
All data viewed and software to program and read data from the MerComms.amr is web based, this eliminates all IT issues (firewalls etc.) associated with loading customised software onto your PC or company server. The web based software is very easy to use and an APP is also available for smart phones for on-site set-up. A template can be created with all the common settings for the MerComms.amr, this allows for quick set-up in the office and a smart phone or laptop can be used on site to set the pulse unit details and the meter index reading.
If you're interested in our GPRS Datalogger please get in touch on 01453 887449 or sales@mercomwp.co.uk